Facts About Ipe, Mahogany, Brazilian Redwood, Purpleheart, Cambara, Pau Lope & Other Hardwoods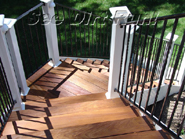 Ipe, Cambara, Mahogany, Brazilian Redwood and Purpleheart have become popular choices in decking material for several reasons. They are beautiful woods that are durable and elegant, and they are by the definition of some, low maintenance. Ipe deck care and maintenance is an annual investment, since the wood is so dense and will not allow for much penetration of any wood sealer or stain. Pressure washing Ipe using the correct methods and cleaners is suggested for annual maintenance. Pressure cleaning and sealing Ipe, Cambara, Mahogany, Brazilian Redwood and Purpleheart annually will give these hard woods the lustre many owners desire for a period of months before the deck needs to be washed and sealed again. We suggest having your Ipe, Mahogany, Cambara, Brazilian Redwood, or Purpleheart deck pressure washed and sealed annually in the spring so that you may enjoy the deck during the peak of the year.
Pressure washing (sometimes called power washing) an ipe deck is only part of the correct process for care and maintenance. Sometimes a deck needs to be stripped, and sometimes it only needs a maintenance wash. What your ipe deck needs can only be determined by visual inspection. Alkaline cleaners are used to remove accumulations of mildew and algae and as required, old sealer or stain. Once this has been done the ipe deck needs to be neutralized so that the pH of the wood is correct when it is sealed. Ipe is the second hardest and most dense wood known to man, and will not hold a penetrating sealer for long for this reason. Ipe deck owners should expect to get their deck washed and sealed annually. For those who enjoy the silver patina the unsealed wood takes on, annual cleaning is sufficient. See Dirt Run! Inc. suggests annual deck washing and sealing for those who want their decks to look finished during the summer months.
Deck washing and sealing means more than one trip to your home. The first trip is to wash or strip your deck, the second trip is to prep and seal your deck. Deck washing should always be performed with the correct amount of pressure, or PSI, for the job. Excessive pressure can cause damage, and too little can result in an inferior result. We use the correct amount of pressure for deck cleaning as prescribed by US Forest Laboratories and the PWNA's Wood Certification. Sealing or staining wood needs to be done when the wood is dry to the correct WMC, or wood moisture content. Any sanding that takes place needs to be done with the correct grit. You can see that ipe deck washing and sealing should be done by an experienced professional with a thorough understanding of the wood.
About Hardwood Decks: Fiction vs Fact
FICTION: Sealers and stains last just as long on ipe as they do on cedar or pressure treated lumber. FACT: Ipe is the second most dense wood known to man. There is a direct correlation between wood density and product absorption. Less absorption means a shorter product life. FICTION: Washing or stripping a hardwood deck should be done the same way for ipe or mahogany as it is for cedar or PT lumber. FACT: Each wood species is unique and the properties and condition of the wood should be considered before any one method is used.
"See Dirt Run!™ Inc. is not your typical deck cleaning company. These professionals thoroughly examine your deck before providing an estimate. Then they clean it as if they are restoring a work of art. The sealing/staining is done by hand, methodically and meticulously; they not only cover siding, windows, and downspouts with plastic, but they cover the soil and flagstone on the ground with cloths! Our deck looks brand new and fantastic!"

- L.L., VA., Ipe Deck restoration - Repeat Customer
Our service area includes: Alexandria, Annandale, Arlington, Ashburn, Ashton, Aspen Hill, Barnesville, Beallsville, Bethesda, Boyds, Brinklow, Brookeville, Brunswick, Burtonsville, Cabin John, Chantilly, Chevy Chase, Clarksburg, Colesville, Columbia, Damascus, Darnestown, Derwood, Fairfax, Falls Church, Frederick, Gaithersburg, Garrett Park, Germantown, Glen Echo, Great Falls,Hampstead,Herndon, Kensington, Kentlands, Laytonsville, Leesburg, Mount Airy, Montgomery Village, McLean, New Market, North Bethesda, North Potomac, Oakton, Olney, Poolesville, Potomac, Reston, Rockville, Sandy Spring, Silver Spring, Spencerville, Sterling, Takoma Park, Urbana, Vienna, Washington Grove, West Bethesda, Westminster, Wheaton, Woodbine
Call: 301-540-1243
To schedule your estimate contact our office at 301-540-1243. You may also contact us via the form link below. The form will also allow you to upload photos of your home. MHIC #86481.
Counting down until our spring season begins. Look for new specials soon!
#